Gaining a UK CAA Permission
for Commercial Operations (PfCO)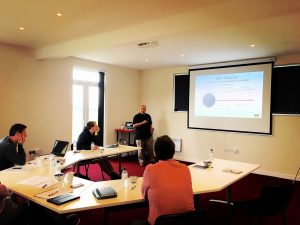 If you're considering a move into this exciting new industry, we offer a course leading to a Commercial Pilot qualification which will enable you to gain your CAA Permission for Commercial Operations (PfCO). If you're an established aerial filming professional looking to grow and expand your business, we are developing post qualification courses designed around specific industries and technologies that are fuelling the growth in this sector.
The components which make up our CDP-C™ (Certified Drone Pilot – Commercial) course are set out below.  Once you have completed each of these components we will submit our recommendation to the CAA for the award to you of a Permission for Commercial Operations (PfCO). You will also have gained your CDP-C™ qualification which is non-expiring. 
Summary
This course comprises of online learning, a printed course handbook, two days of classroom based theory training (Ground School), our review and feedback for your Operations Manual, and a practical Flight Operations Assessment.
Successful completion of our CDP-C™ course and Flight Operations Assessment leads to us making a Recommendation to the UK Civil Aviation Authority (CAA) for you to be granted a Permission for Commercial Operations (PfCO).
Part 1 - Preparatory Study
Once you have enrolled for the course we will register you on our Online Training System and send you the printed Course Handbook. The Online Learning fully covers most of the theory modules. You will be expected to have completed the online training before attending your Ground School. This should take around 8 hours of study. The preparatory learning is important because not all the theory modules will be covered in detail during the Ground School. We prefer to use the valuable Ground School time to focus on those modules which we believe cannot be adequately covered online.
Part 2 – Ground School
You will spend two days in a classroom with one of our highly experienced instructors. The Ground School will finish with you taking a closed-book, Multiple-choice examination. There are 50 questions in the examination, for each question you have to pick the correct answer from 4 possible answers; there will only be one correct answer. The course is structured and delivered so as to ensure that you have the required knowledge to pass the exam by the time you come to sit it! You are also able to have two attempts at a 'mock examination' online before you attend the Ground School.
Part 3 – Operations Manual Submission and Review
Your Operations Manual is a very important document and it is crucially important that it is written well and that you are familiar with the contents.  There is a CAA template which we send to you and we will review, comment and ultimately approve your Manual if you decide to write your own using this template.  Many people do not have the time or experience to be able to write their own Operations Manual. For this reason, as part of the CDC-P™ course we provide to you our own Enhanced Template which will enable you to create your own Operations Manual quickly and easily. You will be able to edit this document to apply your business branding and modify or extend it as you see fit.  This Enhanced Template is included in the cost of the course. No matter how you create your Operations Manual we will need to review it, give you feedback and ultimately approve it as meeting CAA standards.
Part 4 – Flight Operations Assessment
Everything you have learnt on Ground School and the procedures you set out in your Operations Manual come to together for the last part of the course which is a Flight Operations Assessment (FOA). This will take the form of an imaginary client request for Aerial imagery. We will send you a client brief, with details about the location and what you are being asked to do. You will agree a date for your FOA with your Examiner and then will need to demonstrate to the Examiner that you are capable of operating using the procedures set out in your Operations Manual and that you as Pilot-in-Command have the flying skills necessary to conduct the flight competently and safely whilst operating within the rules and regulations laid down by the CAA.
At some point during your FOA, you are likely to have to deal with a couple of simulated emergencies which will be given to you by the examiner. You will also need to demonstrate to your Examiner that you are capable of flying your aircraft without GPS position hold (ATTI Mode).
Once you have successfully completed your Flight Operations Assessment we will submit your Operations Manual and our recommendation to the CAA who will, in due course, issue you with your Permission for Commercial Operations.
NEW FOR 2018. When you attend your Flight Operations Assessment you will be able to enjoy an hour of flight training prior to undertaking your FOA. You will also be sent an amazingly cool UAV Academy baseball cap to keep the sun out of your eyes.
Course Modules
| | | |
| --- | --- | --- |
| Subject | Online Learning | Ground School |
| 1.0 Air Law and Responsibilities | Yes | Yes |
| 2.0 Maps and Navigation | Yes | Recap |
| 3.0 Airspace – Operating Principles | Yes | Recap |
| 4.0 Aircraft Knowledge | Yes | Recap |
| 5.0 Human Factors | No | Yes |
| 6.0 Meteorology | Yes | Recap |
| 7.0 Airmanship and Aviation Safety | No | Yes |
| 8.0 Planning and Operating Procedures | No | Yes |
Benefits
Once you have successfully completed all elements of the course you will hold a CDP-C™ qualification and we will apply on your behalf to the CAA for the grant of a standard Permission for Commercial Operations. As soon as this has been received and you have public liability insurance in place you will be able to start flying your UAV commercially.